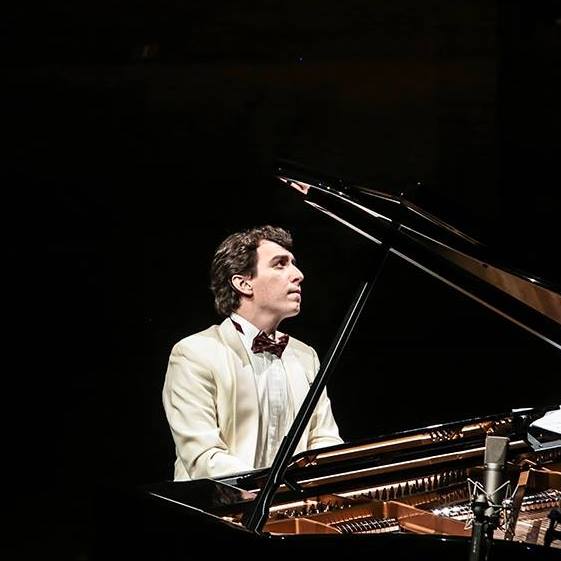 Dino Imeri (1990) is one of the finest Macedonian pianists. He is recognized for his work in classical music as well as a variety of different genres.
He has performed to great public and critical acclaim with the Strasbourg Philharmonic, Macedonian Philharmonic, Sofia Philharmonic, FMU Symphonic Orchestra, Macedonian Opera and Ballet orchestra, JMM Chamber Orchestra. He has performed recitals at many prestigious European venues and festivals such as "Vatroslav Lisinski" Zagreb (Croatia), Schloss "Esterhazy" Eisenstadt (Austria), "Liszt Zentrum" Raiding (Austria), "Piano Plage Festival" Ouistreham (France), Ohrid Summer Festival, Skopje Summer Festival, Interfest – Bitola etc.
He has collaborated with many leading musicians of today including conductors Nayden Todorov, Emil Tabakov, Sasha Nikolovski-Gjumar, Borjan Canev, Dijana Imeri Ilkoska, Josep Vicent, singers Ana and Igor Durlovski, Blagoj Nacoski, Libuse Santorisova, Aleksey Shapovalov, Luigi Schifano, Biljana Josifov, instrumentalists Vlatko Stefanovski, Adi Imeri, Bojan Ilkoski, Marija Vrshkova etc.
He was awarded the "Mother Theresa" - Skopje award for his humanitarian work as well as the title Laureate of Foundation "Tomislav Zografski", "Virtuosi" award, many national and international prizes.
His discography includes 5 CDs published by domestic and foreign labels and a rich filmography as a composer for motion pictures and television productions.
As of 2019, Imeri is an Associate Professor (docent) at the Faculty of Music Arts in Skopje, Macedonia teaching Piano, Chamber Music, Piano in Context and Accompaniment.